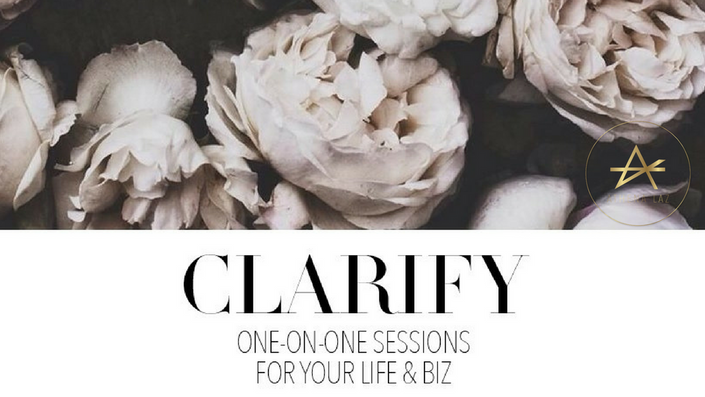 CLARIFY
Virtual One on One Sessions For Creative Entrepeneurs

I love working with creative entrepreneurs, therapists, coaches, yoga teachers, practitioners, creatives and healers who are ready to rise up and take their businesses to the next level!

If you are ready to ditch playing small and gain momentum in your business then this strategy session is for you.
Here are a few examples of the questions that I receive from hundreds of people:
How can I make my message more accessible?
How do I draw up a business plan and see if my business will be profitable?
I'm unclear of my message and need clarity in finding it, can you help me?
I'm really committed to creating a business that I love, but I can't keep myself accountable enough to persist. Can you help guide me one-on-one?
How do I stop self-sabotaging and repeating my old patterns? I'm ready and willing to create significant change in my life and business!!
How can I heal my fear of success?
How can I get published and featured in big platforms and magazines?
How can I heal my fear of failure?
I feel like my products will be rejected , so I never start, can you help me with this?
I want to change my job but feel stuck, can you help me take aligned action?
I know I have potential but I don't know how to to unleash it?
How can I heal my fear of visibility?
I hate social media and it's holding me back in my business, can you help me with this?
What can I do to Rise?
I feel jealous and fall into lack or poverty thinking and would like to change this?
I'm tired of procrastinating but can't seem to change this, can you assist?
STRATEGY + VISION + ACTION = SUCCESS
DOES ANY OF THIS SOUND FAMILIAR TO YOU?
No matter how far along we are on a path of personal growth, most of us can benefit greatly from more guidance, empathic listening and understanding especially when it comes to our businesses and our fears.
If these questions resonate with you, then know that you can receive the strategic support that you are seeking right here.
I've also created two successful businesses from the ground up and know what it takes to get clear and stay motivated enough to succeed. I've been featured in Entrepreneur magazine for breaking even within four months of opening up my first business.
Within six months of starting this business, I landed massive interviews with thought leaders (like Danielle LaPorte, Harley Quinn Smith, Latham Thomas and more) , a weekly self-help column in Cosmopolitan magazine and have had thousands of people run through my courses. I am also trained (and qualified) as a psychologist, so I am easily able to pick up on any underlying commitments that you have made (that you are unaware of ) that are keeping you stuck (financially and otherwise). None of my success is by luck, it's by having a clear vision for what I want and how I can serve effectively, something I know you can do too.
About Athena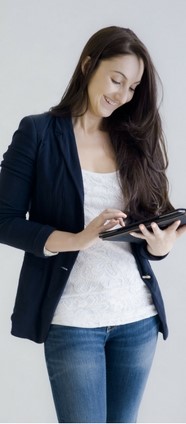 By trade and title, I'm a qualified psychologist, wellness columnist for Cosmopolitan Magazine and an author on a mission to help women reclaim their ability to feel good.
BUT without my "labels" of title and trade, I'm just a woman who deeply believes that care and kindness towards self and others is what really matters.
I'm a woman who wants to swim in the sea, eat good food, give and receive love daily and leave the world in a better shape for having me in it.
I believe that life is for living and that deep seated fear can rob you of your time & joy.
I know that feeling good comes from within.
I've also had to learn that.
I know that nothing outside of you can ever dictate how you treat yourself - if you believe - deeply believe that you are enough.
It hasn't always been like this for me though…
For a long period of time I felt completely lost and confused.
I had no idea where I belonged in the world. Or what I could possibly have to offer others.
I followed so many different paths only to feel more frustrated and stuck.It was only when I went within that I realized that nothing outside would ever make me feel what I was craving… self- acceptance.
So in 2010, through a deep inner awakening, I realized that I could not carry on in the same way and I decided to fully commit to what I wanted and not what I feared.
That inner commitment, turned my life around.
I went from insecure and fearful of my own inner power to living a life of my own design with a partner who loves and respects me.
I am an East meets West kind of therapist with entrepreneurial blood who loves to create.
And I am here to tell you that if I can do it, so can you.
There is magic in honoring who you are because when you stop fighting, belittling and judging yourself - you open up.
Your life literally opens up.
All that energy goes towards love.
Towards loving how you relate to yourself and to everything around you and that, that is true freedom and power.
HERE'S WHAT YOU CAN EXPECT WHEN YOU SIGN UP FOR A VIRTUAL ONE-ON-ONE SESSION
One personal 60-minute phone or Skype or Zoom session.
Pricing: $295 (VAT inclusive in the US, UK and SA) (Vat exclusive in the EU).
Method: Strategic coaching based on my knowledge as a female entrepreneur!
The results: You can expect great results when you do the work! My clients have gone on to level up their businesses, let go of old limited thinking and bring in multiple figures.
Are you ready to change your patterns and totally transform your business?
If the answer is yes, then you're ready for a virtual one on one session with me!
Get started below.